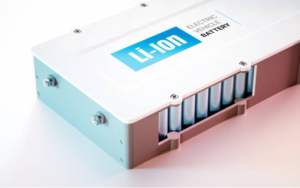 APPLICATIONS OF TECHNOLOGY:
Batteries

Electric vehicles
BENEFITS:
Cheaper, more sustainable cathode materials

High energy density and rate capability

Suitable for large format cells

Easily scalable synthesis
BACKGROUND:
Current lithium-ion batteries rely on rare and expensive metals like nickel and cobalt for cathode materials, creating a barrier to the mass production of electric vehicles. Some research has targeted developing new cathode chemistries to progress beyond nickel manganese cobalt (NMC) cathodes, such as lithium iron phosphate (LFP) or sulfur, but these alternative cathode materials often make sacrifices on performance, like LFP's lower energy density or sulfur's rapid capacity degradation. Reducing the cost of cathode materials and moving to more sustainable sources would go a long way to accelerating the adoption of clean electric power in more applications.
TECHNOLOGY OVERVIEW:
Berkeley Lab researchers have developed a method to produce cathodes for lithium ion batteries based on disordered rock salts with excess lithium (DRX). Because these DRX cathodes use no nickel or cobalt, they can be substantially cheaper and more sustainable than the current industry standard NMC cathodes. The cation disordered nature of the cathode structure also allows for high lithium capacity and facile lithium transport, meaning DRX cathodes can compete with NMC in the important performance metrics of energy density and rate capability. In testing, the DRX cathode demonstrated a discharge capacity of over 200 mAh/g after 200 cycles, for 88% capacity retention.
The fabrication method developed at Berkeley Lab presents significant advantages over other fabrication methods used in research. Introducing ammonium salts during the synthesis creates more uniform particle size, which is important for use in large format battery cells. Additionally, this method is conducted in the solid state, so it can still take advantage of the easy scalability of the more common solid state fabrication technique.
DEVELOPMENT STAGE: Concept proven in laboratory
PRINCIPAL INVESTIGATORS:
STATUS: Patent pending.
OPPORTUNITIES: Available for licensing or collaborative research.