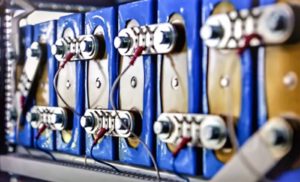 APPLICATIONS OF TECHNOLOGY:
Polymers 

Polymer-coated separators

Battery cells for high power applications in electric vehicles, trucks, seacraft, aircraft, and drones 
BENEFITS:
Batteries that offer 4–10 times more power than conventional cell configurations

Capable of delivering hundreds of cycles with 99.5% coulombic efficiency and 80% capacity retention rate
BACKGROUND:
High power batteries are key in electrically powered transportation, as conventional lithium-ion batteries are incapable of delivering both high energy density and high power required. This is especially true in vertical take off and landing (eVTOL) in electric aircraft, as well as in medium and long-haul trucking when bringing to speed large payloads, among other transportation needs. 
High power batteries require embodied materials that minimize charge transfer resistance at electrode–electrolyte interfaces and avoid excessive polarization. Polarization depends both on the cell and electrode architectures as well as the ionic charge transport properties of the electrolyte. 
TECHNOLOGY OVERVIEW:
Berkeley Lab scientists have developed a new material and cell component for lithium metal batteries that outperform conventional lithium-ion batteries. This dendrite suppressing and dendrite blocking soft ion conductor addresses the need for low charge transfer resistance at the anode–electrolyte interface using a microporous polymer film, which is controlled both by the chemical structure of the polymer as well as the selection of components in the electrolyte. Furthermore, it maintains a low charge transfer at the cathode–electrolyte interface through the choice of cathode materials as well as the components in the electrolyte.
High conductivity electrolytes and low overall cell resistance is a fundamental part of better performing batteries. Through its use of specific electrolyte components as well as the cell architecture these  batteries can increase the power rating of lithium metal cells by at least a factor of 4, with specific combinations accessing greater than 850 W/kg. Conventional cells would access only ~200 W/kg. Additionally, the cycle life of these high power high energy density cells is long, due to the passivation of the lithium anode. Their work showed a low capacity fade rate, which consistently showed 80% capacity retained over hundreds of cycles.
Lithium metal batteries embodied with this invention are capable of delivering better energy density as well as power. These performance advantages are highly applicable for better performing electric vehicles, trucks, seacraft, and aircraft.
DEVELOPMENT STAGE: Proven principle
FOR MORE INFORMATION:
Fu, C., Venturi, V., Kim, J. et al. Universal chemomechanical design rules for solid-ion conductors to prevent dendrite formation in lithium metal batteries. Nat. Mater. 19, 758–766 (2020).
RELATED TECHNOLOGY:
Microporous Polymers for Gas, Liquid and Battery Applications 2018-128
PRINCIPAL INVESTIGATORS:
Junhua Song 
Michael Baird
STATUS: Patent pending 
OPPORTUNITIES: Optioned for certain Fields of Uses.  Parties interested in licensing or collaborative research should contact ipo@lbl.gov.