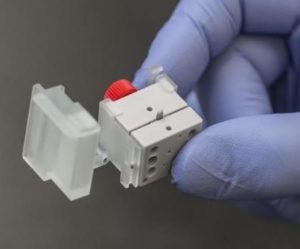 Emeryville-based Newomics has just shipped its M3 emitters to commercial customers. The emitters, designed to work with mass spectrometers used in the pharmaceutical industry and in clinical labs, speed identification of proteins and other molecular components in biological samples at a sensitivity 10 to 100 times greater than competitors.  The result: better long-term monitoring and management of diseases such as diabetes with just a drop of blood.
Newomics' founder Daojing Wang describes the benefits of improving the robustness and sensitivity of mass spectrometry. "For example, if someone wants to look at low abundant species, they can utilize our devices," said Wang. "And improved robustness means the results are more reproducible and reliable."
The startup is making a move in the new direction of precision medicine services, developing blood-based assays to support diabetes diagnosis and care and to monitor for environmental toxins such as perfluorintated chemicals.
"Licensing a Berkeley Lab technology as the foundation of its startup and then developing a superior research tool was only a first step for Newomics," said Elsie Quaite-Randall, Berkeley Lab's Chief Technology Transfer Officer. "By branching into new products and service categories, Newomics demonstrates the far-reaching impact, over time, of DOE-funded basic research."
The Berkeley Lab startup has grown to six full-time employees. Newomics is funded by Small Business Innovation Research (SBIR) grants from the National Institutes of Health. Read the complete update on Newomics at Berkeley Lab's Newscenter.