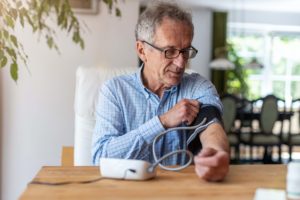 Invention opens doors for medical device manufacturers to develop at-home or wearable devices to measure endothelial health
Endothelial function, like blood pressure, is a powerful predictor of heart attack and stroke; emerging studies have linked the COVID-19 virus to endothelial dysfunction. Lawrence Berkeley National Laboratory (Berkeley Lab) has announced a new non-invasive method employing cuff-based measurement of flow-mediated dilation to detect preclinical cardiovascular disease. The technology is now available for licensing.
The new method will enable the accurate, inexpensive, and routine detection and monitoring of preclinical cardiovascular disease via both endothelial function and endothelium-independent vasodilation. The novel method is the only noninvasive vasorelaxation assessment technique to achieve the previously unprecedented accuracy of invasive methods such as ultrasonic imaging.
Studies on human subjects have verified that the new method is 37% more sensitive to arterial relaxation than brachial artery imaging. In addition, the apparatus costs one-fifteenth as much as an ultrasonic imager, minimizes the possibility of human operating error, and eliminates the need for an ultrasound technician.
The current state-of-the-art technology, flow-mediated dilation (FMD), measures the change in diameter in the brachial artery before and after shutting off blood flow. FMD requires the use of an ultrasound scanner or expensive systems, making the current technology unsuitable for frequent testing or continuous monitoring. In addition, the measurements by some FMD systems are based on microvascular tone, which can be compromised by factors such as sympathetic nervous activation. The Berkeley Lab invention developed by Biosciences Area scientists Jonathan Maltz and Thomas Budinger overcomes these challenges to achieve more convenient patient testing.
Maltz also invented a way to calibrate the cFMD measurements with those of ultrasound-based flow-mediated dilation (uFMD). This allows health providers to take advantage of existing research on the effect of cardiovascular health factors (diet, physical activity, medical interventions, etc.), typically assessed using uFMD. The novel uFMD calibration technology can be used in nearly every setting, may be applied to arteries in the arms and legs, and is compatible with existing technologies and other dilation measurement systems. 
For information on licensing this technology, contact ipo@lbl.gov.
Founded in 1931 on the belief that the biggest scientific challenges are best addressed by teams, Lawrence Berkeley National Laboratory and its scientists have been recognized with 13 Nobel Prizes. Today, Berkeley Lab researchers develop sustainable energy and environmental solutions, create useful new materials, advance the frontiers of computing, and probe the mysteries of life, matter, and the universe. Scientists from around the world rely on the Lab's facilities for their own discovery science. Berkeley Lab is a multiprogram national laboratory, managed by the University of California for the U.S. Department of Energy's Office of Science. 
DOE's Office of Science is the single largest supporter of basic research in the physical sciences in the United States, and is working to address some of the most pressing challenges of our time.