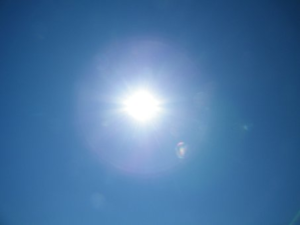 APPLICATIONS OF TECHNOLOGY:
Solar fuel synthesis

Photocatalysis
BENEFITS:
Stable for much longer than bare copper oxide (Cu

2

O)

Protection scheme designed based on insights into degradation mechanism
BACKGROUND:
Solar fuels are an important area of development in progressing towards a sustainable future, using sunlight energy to produce fuel from readily available resources and decrease dependence on fossil fuels. The photocatalysts currently used in these reactions, however, tend to degrade quickly, limiting the practicality of the technology. While protection methods to improve the stability of these catalysts exist, the catalytic mechanism has been too poorly understood to design a bottom-up protection scheme.
TECHNOLOGY OVERVIEW:
Berkeley Lab researchers have conducted an in-depth study of the degradation mechanism of photocatalytic Cu2O in order to better understand what limits the lifetime of Cu2O photoelectrodes. Testing in electrolytes for both the production of H2 and the reduction of CO2 to ethylene, researchers found that Cu2O was simultaneously reduced by photoelectrons and oxidized by holes at different rates depending on the electrolyte and the presence of hydroxide ions.
With this clearer picture of the mechanism, researchers were able to design a protection scheme that directly addresses the cause of the degradation. By adding silver to accelerate the transfer of electrons, researchers were able to create a photocathode for the reduction of CO2 to ethylene that was stable and operated at close to 60% Faradaic efficiency for several hours, as compared to unprotected Cu2O that degrades within mere minutes.
DEVELOPMENT STAGE: Proven concept
PRINCIPAL INVESTIGATORS:
Francesca Maria Toma

Guiji Liu
STATUS: Patent pending.
OPPORTUNITIES: Available for licensing or collaborative research.
FOR MORE INFORMATION: 
Liu, G., Zheng, F., Li, J. et al. Investigation and mitigation of degradation mechanisms in Cu2O photoelectrodes for CO2 reduction to ethylene. Nature Energy 6, 1124–1132 (2021). https://doi.org/10.1038/s41560-021-00927-1