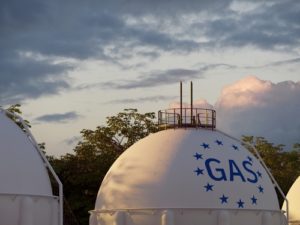 APPLICATIONS OF TECHNOLOGY:
Natural gas storage

CO

2

capture

Oxygen storage
BENEFITS:
Higher storage capacity

Better selectivity

Chemically stable

Intrinsic thermal management
BACKGROUND:
Gas storage is useful in a variety of applications and industries, from storing methane or hydrogen gas as fuel to capturing carbon dioxide for controlling greenhouse gas emissions. Metal–organic frameworks (MOFs) are very promising adsorbents for gas separation and storage applications, as their adsorption capacity and porosity can be tuned for different use cases.
TECHNOLOGY OVERVIEW:
Berkeley Lab researchers have developed a metal–organic framework that undergoes a reversible phase change, changing between a collapsed state and an expanded state. Due to this unique property, these MOFs exhibit stepped adsorption isotherms, allowing for a greater increase in usable storage capacity than is possible with standard MOFs exhibiting Langmuir adsorption isotherms. In the lab, researchers were able to tune step pressure with methane (the main component in natural gas) from ~1 to over 100 bar at ambient temperatures based on the aromatic interactions. 
By using zinc in the M(BDP) MOF family, researchers were able to create a material that is stable against air and water and that can be more easily scaled up in industrial settings. By adjusting the normal synthesis process, the resulting MOF exhibited a stepped adsorption isotherm that had not previously been shown for most zinc-based MOFs.
DEVELOPMENT STAGE: Characteristic proof of concept
PRINCIPAL INVESTIGATORS:
Ever Velasquez

Mercedes Taylor

Colin Gould

Jeffrey Long
STATUS: Patent pending.
OPPORTUNITIES: Available for licensing or collaborative research.